History & Family
Our Angus Heritage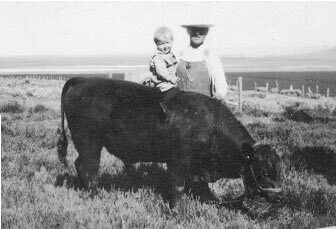 Spring Cove Ranch was a dream of Arthur H. Butler. He was born in the depths of the brutal winter of January 1888 to Pleasant Bassham (1850-1932) and Sarah Frances Butler in a log cabin on Clover Creek north of the present site of Bliss, Idaho. The Butlers had left the Ozarks of Northern Arkansas and traveled overland to Clover Creek in 1883.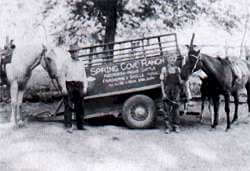 In 1916, Arthur brought his bride, Effie Marie Carrico (1898-1987) to his desert home on the Snake River Plain of Southern Idaho. Together they started their family and began grubbing sagebrush and planting trees and grasses on their homestead, which Effie proudly named "Spring Cove," due to the natural spring in the cove above the farmstead. Arthur and Effie purchased Registered Percheron horses in 1916 and the first Registered Aberdeen Angus cattle in 1919. Since then, Angus cattle and Butlers have been raised at Spring Cove. 100 Years of continuous management by the same family, on the same homestead acres, completely supported by agriculture.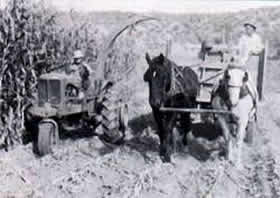 Much change has taken place, since these early days. Changes like building a trailer to haul stock to fairs, instead of relying on the railroad for transportation. Changes like harvesting silage with a 30hp Allis-Chalmers tractor and single row corn chopper to the 400 hp multi-row choppers of the 1990's. Arthur H. Butler was the first ditch rider on the west end of Northside Canal Co. in 1910. He helped build the canal that now supplies water to our present day pivot irrigation systems.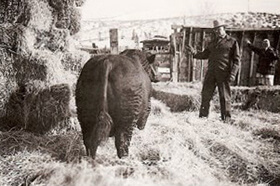 Through all these changes, through all these 100 years, one thing has remain constant, there have always been registered Angus cattle grazing the ranges of Spring Cove.
In March of 1919, Arthur H. Butler purchased 13 registered Angus cows and a bull from the estate of his neighbor, George Fletcher of King Hill, Idaho. These cattle were bred in Humeston, Iowa by George McCullock. These "Blackbird," Nosegay," and "Jennet" cow families were the foundation of the present Spring Cove herd. Our ranch records reveal registration numbers of the purchase numbered under 200,000 with even some four and five digit numbers appearing back in the fifth generation. The oldest number belonged to one old ancestor "Blackbird of Hillhurst," No. 3976.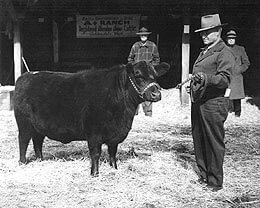 Before the technology of A.I was brought to the ranch, the herd bull was of great importance. Over the years, herd sires were purchased from across the nation. In 1933, Revolution B3, a grandson of the great international Grand Champion, Black Revolution and a double great-grandson of the immortal Earl Marshall, was introduced into our herd. other important sire introductions were Woodlawn Duke 3 from Ray Ballhorn of Wetaskawin, Alberta; Great Oaks Bluemar purchased at the Denver Stock Show in 1950, and Blackbird Bell of Whiteway, purchased in Missouri in 1951. "Whitey" was once called the "best quartered bull in the West."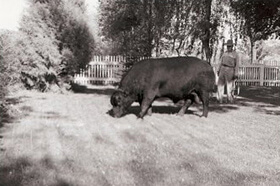 Heifer purchases included two 30 head carloads from the Sam Henderson herd in Alberta, Canada, 1949 and 1951, large framed females which have proven to be some of the best foundation dams.
Through the years, our goal has been to produce all-purpose Angus cattle that will perform under the variety of range conditions of the West. We've kept the birth weights moderate, the weaning weights heavy and our cows maternal, never following current breed fads. We breed functional cows that work under our range conditions.
This SlideShowPro photo gallery requires the Flash Player plugin and a web browser with JavaScript enabled.